ITEM / NOTE BOOKS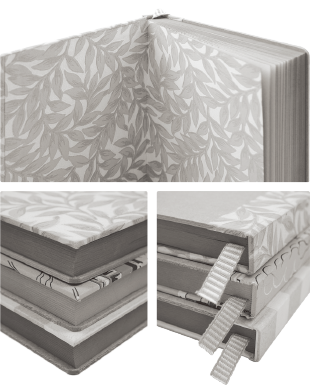 As our first step, we will start selling notebooks. These are finished being bound in a Tokyo bookbinding plant. Both Sweden and Japan have important forest and wood resources, and these notebooks were created from the resources of these two distant countries that each have advanced technical systems.
The notebooks offer unique pleasures: the touch of the paper, mineral pigments, rich colors, and exceptional textures.
Wallpaper is used from the notebooks' cover to its end papers.
The text paper is thin gray plain paper, and each notebook is adorned with a bookmark made of Swedish-made hemp ribbon.
* The wallpaper that is used in the notebook series was cut from rolls, resulting in different patterns among individual notebooks. Please note that choices of specific patterns are not available at the time of ordering. In addition, each production lot of notebooks will have differences in wallpapers, ribbons used for bookmarks, inside paper, and small amounts of coloring. Please note that these are the characteristics of the product.
ONLINE SHOP
ノートブック 全14種All Size: 147×190×24mm /All Price: ¥2,900(税抜)
ノートブック 全14種All size: 147×190×24mm
All price: ¥2,900(税抜)
Notebooks – 14 typesAll size: 147×190×24mm All price: $29
Notebooks – 14 typesAll size: 147×190×24mm
All price: $29